Introducing Revel Petals!
2016 marks the birth of Revel Petals! If you'd told me 10 years ago that I would eventually run my own flower business, I'd have laughed. Not that I didn't love flowers then, because love is a small word for a gigantic overwhelming passion that has rumbled within me since I was little. But it takes more than passion to start a business.  It takes Moxy.
Moxy. Yes that really is the right word.  The first glimmer of my moxy-de-fleur showed itself at my own wedding, 8 years ago. Without much forethought, I had decided to make the flower arrangements for the arch. The day before my wedding. Having never before arranged flowers, aside from a vase on the kitchen table. It was a much bigger undertaking than I realized at the time.
On the day before my wedding, I walked my mom through the Los Angeles flower mart, picking blooms that felt right. As I loaded up my arms to overflowing, my mom's face grew worried as she asked me, "so, just how big are these flower pieces?"  My answer came in one word, muffled behind the stacked bunches of flowers in my arms: BIG.
This is why my mom is awesome. She swallowed any doubt she might have had and helped me get everything into the car. We needed to have the arrangements finished by the rehearsal, which was a few hours away. After we hit some traffic trying to get to the hotel we would stay at that night, my mom gently asked the big question, "do you have a plan?"
I did. Because I always do. Even if just in my head. I was the kid who planned her lunches a week in advance. I pack ten days before travel. And I have a PHD in list-making.  So of course I had a plan. So I drew her a diagram and as soon as we arrived at the hotel I rolled up my sleeves and got to work. I hadn't counted on how much I would love working with the flowers. I was exhilarated as I explored how the flowers interacted with each other. The pieces were finished with plenty of time, and turned out just like I'd imagined. But what I didn't know then, was that these arrangements were the seeds of Revel Petals, they just needed time to germinate.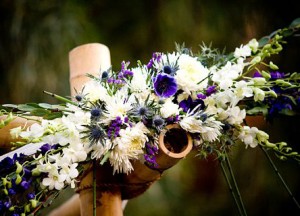 And germinate they did. A few years later, I found myself replying to a craigslist ad to become a floral assistant at Bunch Studio, and photos of my wedding arrangements helped get me the job.
I spent the next 5 years under the direction of the brilliantly talented Mai Hoang Ito, working countless weddings and photo shoots, learning about all the different blooms and honing my skills. We traveled all over Southern California designing florals for weddings of all styles and budgets. We designed the flowers for Ruche's wedding line launch (see some of our work here) and worked alongside some of the best planners and photographers in the business.  Mai taught me well, and gave me a gift of experience for which I will always be grateful. With Bunch Studio now shuttered, I will always look back on those days with fondness. Even the early morning mart runs. And maybe those most of all.
So from the void, Revel Petals has become a necessity, if only for my sanity. Yes, you read that right, flowers keep me sane. They are, in my opinion, nature's most lavish gift to the world. I don't know what I'd do without them. And so, I'm pleased and excited to announce the official opening of Revel Petals! (Cue champaign pop and confetti. And flowers. Lots and lots of flowers).
Give me a shout, and we'll make beautiful weddings together!
Happy 2016!
-M