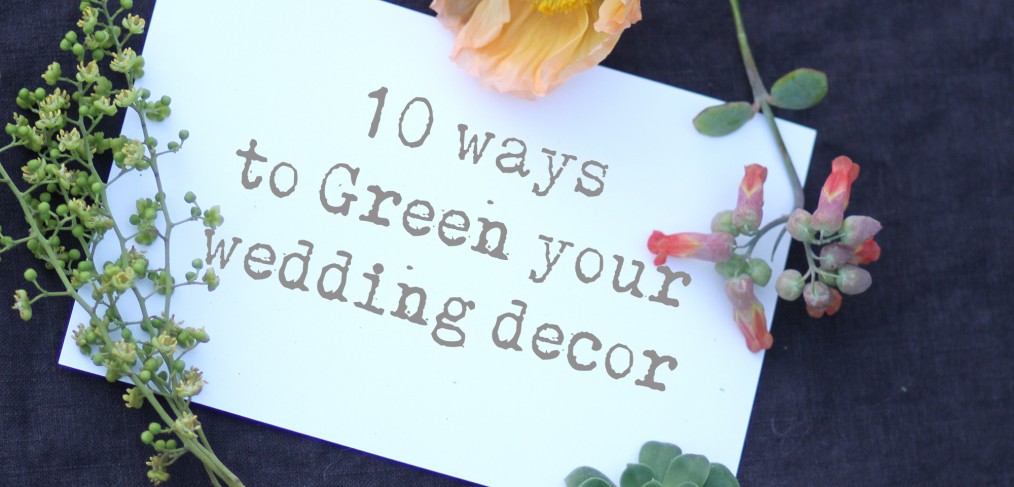 Earthy Matrimony: 10 Ways To Green Your Wedding Decor
So you want an eco-friendly wedding…
You're getting married outdoors to lower your energy usage. You've ordered invitations printed with soy-based ink on recycled paper. The wedding program is made of seed paper, and you've even rented a clean fuel party bus to keep your guests from driving their gas-guzzling SUVs on the day of your nuptials. You've thought of everything, but what about your decor and flowers?
Most people don't realize what a burden the cut flower industry places on the environment. Flowers are green already, right? Well, not necessarily. Most cut flowers in the US are grown in foreign soil, often in a slew of chemicals and pesticides, and tended by workers who are poorly compensated for their efforts. Then they are shipped, which in and of itself carries a serious carbon footprint due to massive fuel consumption used for transit.
Many of you savvy grocery shoppers know that when it comes to food, proper certifications are the only way to guarantee organic and non-gmo foods. And though there are some certifications for cut flowers that guarantee a level of sustainability, in my opinion, none of them go far enough.
I've heard some earth-advocates say that to be eco-friendly, you must foregoe the cut flowers for your wedding. But I feel strongly that a wedding without flowers is like lemonade made without lemons.
That said, here are 10 tips for making sure your flowers and decor are as blissfully sustainable as possible:
Buy local and seasonal. When interviewing a florist, ask where she/he gets the flowers. A florist committed to locally grown flowers will be able to tell you where each bloom is grown, and may even know the farmer by name. If not, it's likely your florist is buying from wholesalers who import bulk flowers from distant farms, leaving a substantial carbon footprint from all the different vehicles (read fuel) needed for transport.
Ask about pesticides. Pesticides are bad. Hopefully, since you are reading this article, you are already aware of the terrible things these chemicals are doing to plants, animals, humans and bees across the world. The best flower farmers are not using any pesticides, but instead promote a fertile soil and healthy ecosystem, and let Mother Nature keep the bugs in check. Farmers who don't use pesticides may be harder to find, but a florist committed to having a 'green' business will put in the extra effort to search them out.
Avoid Flower Foam. It was once considered the greatest invention in the floral industry, but is now known to contain really nasty toxic stuff like formaldehyde. (Yes, it and other ingredients in foam are known to cause cancer). Worse, it is not biodegradable. Florists worth their salt can design without foam, and won't balk if you request that no foam be used at your wedding. One exception is the newly developed Floral Soil, a product developed in Washington state, that functions like flower foam but is perfectly non-toxic and biodegradable. This Floral Soil is just coming on the market, and is hard to acquire, so don't be disappointed if it isn't available to your florist. That said, almost any arrangement can be done without foam, so don't be afraid to request a no-foam wedding.
Rent your Vases. Many times, all the vases used in a wedding end up in the trash. Think of all the glass vases piling up in our landfills! A more eco-friendly approach would be to rent vases or containers from your florist or rental company, and pay for either your coordinator or florist to return the containers after your event. So you want something specific that isn't available at a rental house? Try asking your florist to go in halves with you if he/she can keep the containers after the wedding. Or, if money is no option for you, consider donating them to a hospital or charity like salvation army.
Be Thoughtful About Your Candles. Candles can set a wonderfully romantic mood for a wedding. But did you know that candles can be terrible for the environment? Not only that, but depending on the wax used, candles can be downright toxic. How romantic is a wedding where the air is laced with carcinogens? Here's a quick rundown on wax: Parafin is a petroleum bi-product laced with chemicals. Beeswax is super healthy and burns clean, but depending on how it's harvested, it can be hard on the bees, who are already having a difficult time in the world. Soy wax is almost always made with GMO soy, is often mixed with other less clean waxes, and pretty gnarly chemicals like hexane are used to make it. Palm Wax commonly contributes to massive deforestation. So where does that leave you, if you have your heart set on incorporating candles into your decor? I recommend trying to find a Rainforest Alliance Verified Palm Wax candle, (See http://www.alohabay.com) or an organic, sustainably farmed beeswax candle (or 100% organic, non-GMO soy wax or hemp candles if you can find them!).
RePurpose from Ceremony to Reception. Logistics willing, repurposing flower arrangements from your ceremony to your reception not only is friendly on your wallet, it cuts down on materials/flowers discarded at the end of the event. Some florists will charge a "change over" fee to stay through the ceremony and stage the reception using the ceremony arrangements, but this usually pales in comparison to the cost of all new arrangements for the reception.
Incorporate Succulents & Air Plants. Not only are they super-chic, succulents and air-plants don't necessarily have to be thrown away after your wedding. Simply pull the succulents and air plants from your arrangements and plant them at home, (literally stick them in the ground/hang in the air) or give them to your friend who likes to garden. Don't know anyone who has a garden? Ask if your coordinator or florist would like to take them home and plant them.
Consider potted plants. I'm not saying go to home depot and buy some plants and stick 'em on the table. Besides the fact that home depot admits to using plants laced/engineered with neonicotinoids (*these kill bees!), it wouldn't look very pretty. So this suggestion can be tricky, requires some preplanning, and takes a florist with a green thumb (no, they don't all have them). But an artfully arranged pot of flowers and plants can make a bold statement, and will continue to thrive long after your wedding.
Request organic silk or cotton ribbon. Hand dyed, local, organic silk or cotton ribbon is not only gorgeous, it's also better than cheap synthetic ribbon made in china. A thoroughly earth-friendly florist won't charge extra for these specialty ribbons, because they are standard practice. But it doesn't hurt to request it anyway. Even if it's just your bouquet that is wrapped in ribbon, every little bit counts. Besides, see these beautiful bouquets with trailing hand-dyed silk ribbon. Swoon.
Green your favors. Don't be afraid to make a statement with your favors. With many different options out there, from mini-potted succulents to packets of seeds, your favors are the prime venue for your green-leaning ideals to be put on full display. You can donate to a good cause in lieu of favors, give small jars of organic honey from local farms, or display saplings to be planted in honor of the event. The idea here is to stay away from plastic or easily discarded consumer goods, and make this a wholesome and personal proclamation of your love for the world and each other.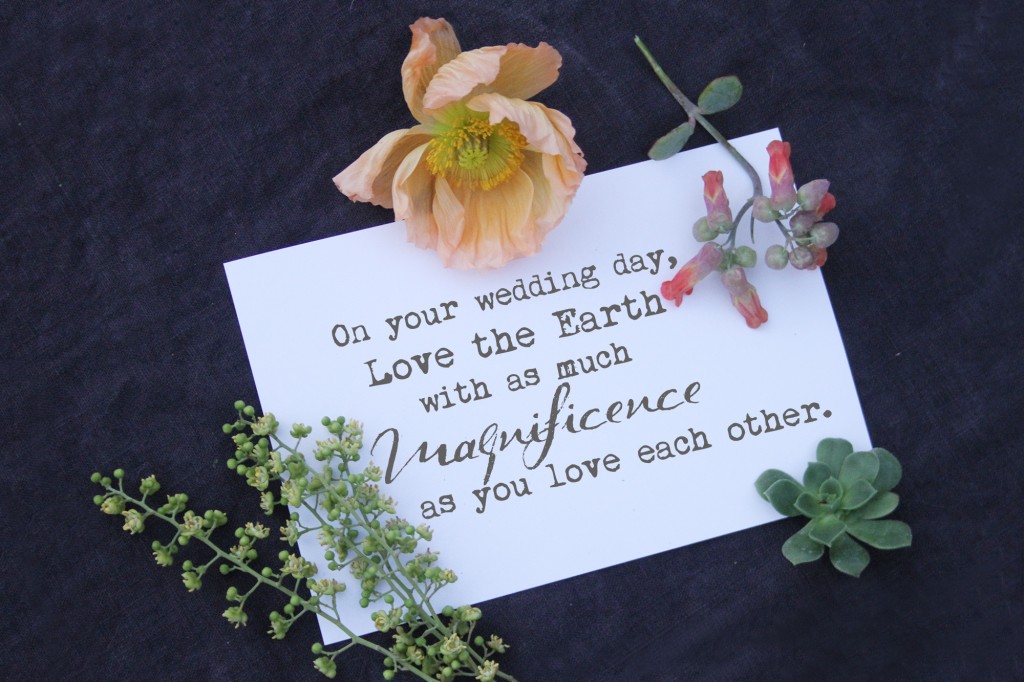 After all that, my biggest advice is to take a deep breath, and let your creativity run wild! Reusing found objects to create interesting tables, thrifting your plates and silverware, and buying eco-friendly products are all ways of greening your wedding, but by all means, hire a florist who shares your eco-beliefs! The earth will thank you.
Go forth and be green!