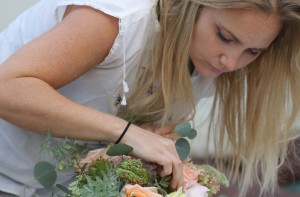 Born and raised in Bend, Oregon, Marisa grew up surrounded by an evergreen and ever-growing countryside. It is the haphazard elegance of the natural world that inspires her creativity and spurs her to seek out new and eco-friendly ways of doing things.
From the moment she could walk, she could be found traipsing among her mother's garden, smelling the many blossoms, admiring the variety and individuality of each bloom. And with over an acre of land adorned with ornamental scotch broom, honey suckle and English tea roses long turned wild, there were plenty of buds to explore. It is here that Marisa discovered make-believe castle colonnades made out of bowing vines and curious lilac courtyards dappled in shade, all the perfect canvas for countless afternoons of imagination.
After cutting her teeth at the prestigious, (and now shuttered) Bunch Studio, Marisa has opened Revel Petals to continue designing unique, lavish, and even esoteric, florals for all of your special event.